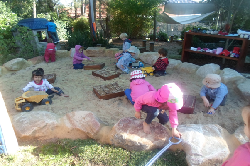 Betty Spears Child Care Centre is a well respected, community based, not for profit, Long Day Care Centre operating in Tempe since 1986.
Our centre provides high quality care and education to children aged 6 weeks to 6 years between the hours of 7.30am and 6.00pm Monday to Friday.
The quality of the centre was assessed against the National Quality Standards in June 2018 resulting in our centre meeting the standards in all seven quality areas while exceeding in three quality areas. We continue to strive for excellence in all we do for children, families and the community in which we serve.
Community based means that the centre belongs to the community and is managed by a volunteer Board of Directors made up of parents from the local community whose children attend the centre. The day to day running of the centre is the responsibility of the Centre Director who reports to the Board. The Centre Director and Board meet each month to discuss issues relating to the centre operation and all parents whose children attend Betty's are welcome to attend.
Being part of a community based centre can also mean that in order to keep our costs down we may ask for your help from time to time with things like fund raising and centre working bees. This is always voluntary but we do promote the idea that "many hands make light work".
Not for profit means that all of the income we receive in fees and Government subsidies goes directly to the centre budget to be used for the benefit of children and families.
Betty Spears Child Care Centre is approved for families to receive CCS (Child Care Subsidy)
As of August 2022 the cost of care per day is $135 for children under two years and $133 per day for children over two years of age. This includes everything your child will need in a day except formula for babies and nappies for all children using them. This is because all families have individual preferences around these things which we respect at Betty's.