Mealtimes at Betty's
As with all our routines at Betty's we seek to offer children a more individualised experience that feels more like a home environment for them rather than a centre. For this reason we have created a dining room for our toddler and preschool children where an educator will sit with a small group of children and share a meal and a chat. This experience is repeated in a progressional way so that children can have more flexibility around when to eat and who they share a meal with. This family style approach also allows the children to eat at their own pace with many children enjoying the social aspect of eating and staying at the table to chat with a few groups of children.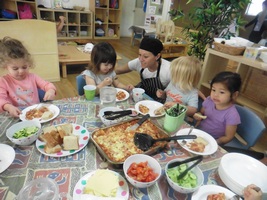 Through experience we have learnt that most children (like adults) have strongly felt preferences when it comes to food. Often children will not eat a favourite food if it is next to a food they do not like to eat. This is why we try to separate all foods into separate bowls and invite the children to self-select during meals. We have also introduced small tasting saucers so the children have the opportunity to try a variety of foods in a less intimidating way.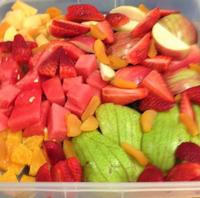 Food at Betty's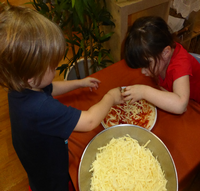 Our centre cook makes food that is low in salt and sugar, mostly from scratch as we try to keep preservatives and additives to a minimum where we can. We have fresh fruit and vegetables delivered to the centre weekly or twice weekly in some cases. We serve breakfast, morning tea, lunch, afternoon tea and a late snack at Betty's and a bowl of fruit is available in each room for when the children get hungry outside meal times. We provide cow's milk and soy milk but all other formulas need to be supplied by the family.
All our menus have been assessed as meeting the recommendations of the "Nutrition Checklist for Long Day Care Menu planning" by an early Childhood Nutritionist at the Community Nutrition Service (Sydney Local Health District). The "Munch and Move" program has been incorporated into our program at Betty's resulting in lots of cooking and movement experiences being offered to the children as well.
Curriculum at Betty's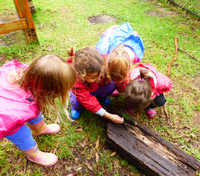 Our Educational Program is play based and it starts from the children's interests and follows their lead as they experiment and explore experiences across all curriculum areas. We see the children as instigators and collaborators in their learning with the Educators being co contributors and taking on more of a facilitating role. This philosophy is based on many years of research and practice that supports what many of us as parents and Educators have always known, that is: we all learn better when we are involved and interested. This philosophy is at the core of The Early Years Learning Framework which is the National Curriculum for all Early Childhood Services. It is a play‐based curriculum that describes childhood as a time of belonging, being and becoming. It sees relationships as key in supporting children to feel emotionally secure and it acknowledges children as active, competent participants in their learning. The Early Years Learning Framework also sees children in the context of their family and culture and through this it invites partnerships between families and educators with the aim of respecting diversity and choice. The curriculum is detailed and divided into five learning outcomes for children:
Outcome 1. Children have a strong sense of identity
Outcome 2. Children are connected with and contribute to their world
Outcome 3. Children have a strong sense of wellbeing
Outcome 4. Children are confident and involved learners,
Outcome 5. Children are effective communicators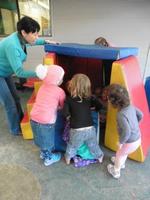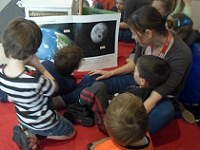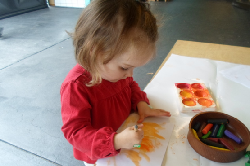 There are links to the curriculum in each of the room's daily diaries and in documentation around the centre as well as in each child's learning journal. The learning journals are a record of a child's development, interests, experiences and learning over their time at the centre and they can be assessed by children and families at any time. We also encourage families to take the journals home to add to them so that the journals become a more holistic record of your child's early years. Further information on The Early Years Learning Framework can be accessed on line at www.acecqa.gov.au. Translations are also available from this website in many community languages.